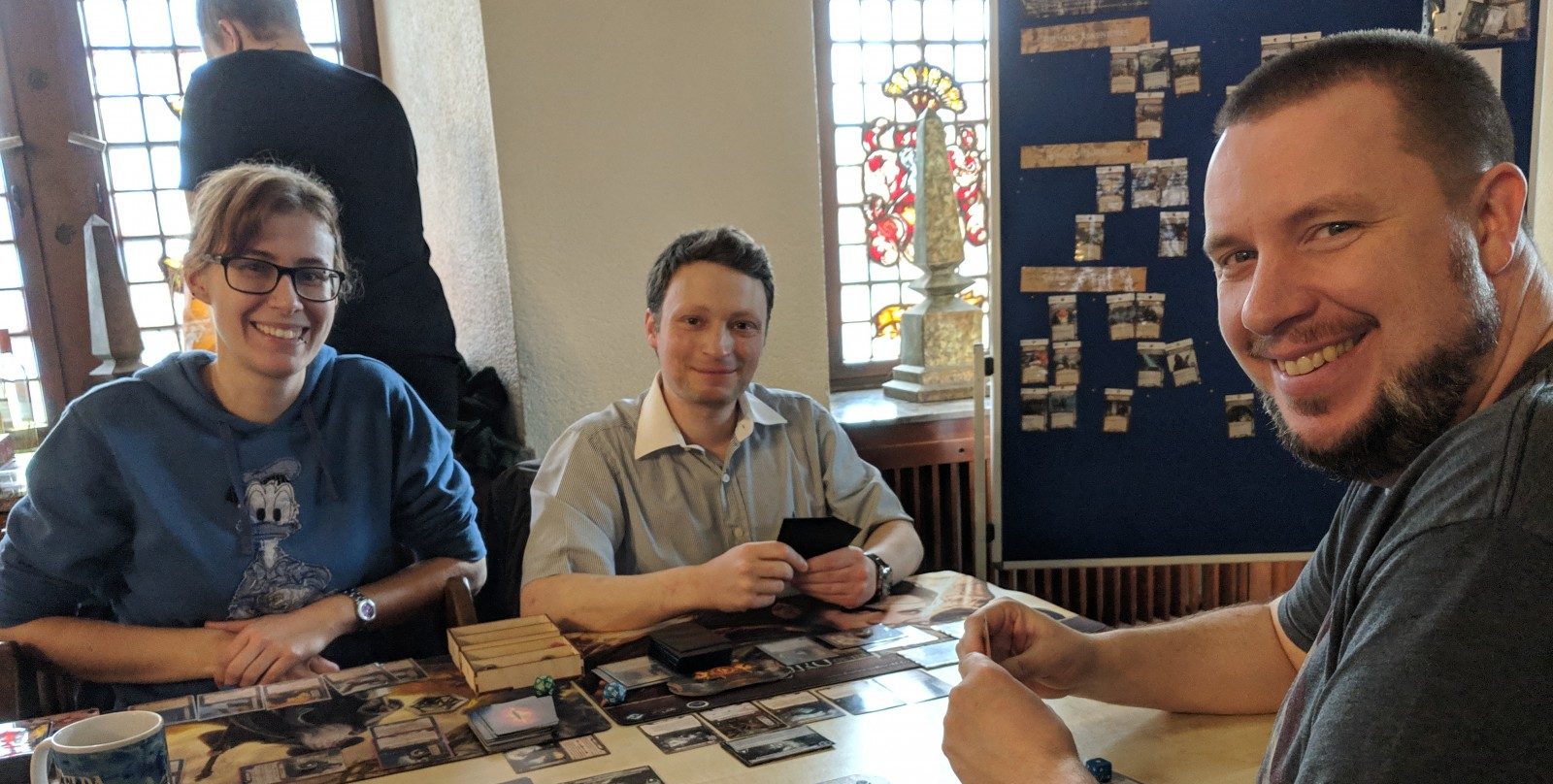 The Lure of Middle-earth is a fan convention for all Lord of the Rings card and board games. Currently the two main games that are played in tournaments and special events at the convention are the Middle-earth Collectible Card Game (published until 1998 by ICE) and the Lord of the Rings Living Card Game (by Fantasy Flight Games).
This community organized convention aims to give players an opportunity to come together once a year to enjoy their favorite games with their peers.
Be part of our fellowship! And join us for a weekend of gaming!
Read more about the history and the philosophy of this convention.
When
February 16th (starting 2 pm) till February 18th (ending 4 pm), 2024.
It is possible to arrive earlier or stay longer at the castle. Please mention this in your pre-registration.
Where
Castle Stahleck, 55422 Bacharach (see on Google Maps). The castle is in the small town Bacharach in the middle of Germany, about 50 km south of Koblenz and 50 km west of Mainz. The closest Airport is Frankfurt, only 45 minutes away via train.
How to get there
By car: Driving on the German highway A61, you take the exit named Rheinböllen. From there you go on in direction to Bacharach. You reach Castle Stahleck via Bacharach-Steeg. There are many parking spots next to the castle.
By railway: Bacharach lies on the railway track Mainz-Koblenz. From the railway station in Bacharach it is only a walk of about 20 minutes to the castle. You can find your best train connection via Deutsche Bahn. (Please note: The way up the castle is steep and involves many stairways. We advise taking a taxi if you have heavy luggage. Call Rheintaxi via +49 (0) 67 43 16 53.)
By plane: There are three big airports near Bacharach: Cologne, Duesseldorf and Frankfurt. There are good Train connections to Castle Stahleck from all of them. You can look up your connections via Deutsche Bahn. Type in the city name and look for "Flughafen" (German for Airport). In most cases you can find a direct connection from the Airport to Bacharach. (You will have to buy your local train ticket from the ticket machine at the station. Just type in Bacharach as the target of your journey and the  machine will give you the right ticket.)
Rooms & Prices
All prices for the Lure of Middle-earth are per person for the whole weekend, including overnight stay at the casle from Friday to Sunday. This also includes breakfast, lunch and dinner at the castle, and also coffee, tee and WiFi for the whole weekend. Vegetarian meal options are available if noted in your registration. All fees to attend tournaments or special events are also included in the room charge (except for drafting and sealed tournaments).
There are different rooms available (many of them with shower and toilet in the room). You can find a short overview of the available rooms below. You'll get more detailed information about what rooms are still available after pre-registering. Be quick to pre-register, as rooms will be given out in order of submission. And the smaller rooms will be gone very quick.
Available Rooms:
1 bed room (private bathroom): 124 Euro
2 bed room (private bathroom): 108 Euro per person
2 bed room (communal bathroom): 98 Euro per person
4 bed room (private bathroom): 82 Euro per person – women only
3 – 10 bed rooms (private bathroom): 82 Euro per person
3 – 10 bed rooms (communal bathroom): 72 Euro per person
Reduced Prices for Children:
Children of 3 years and younger stay for free at the castle. Children between the ages 4 and 14 get a 50% discount. Everyone who is 15 or older pays full price.
Registering for both LotR LCG & MECCG:
There is no additional fee for playing both games at Lure of Middle-earth and participation at all events is included in your stay at the castle (except for some limited formats that require unopened products). But based on popular request by the community, we are offering a special registration for both games that costs an additional 5 Euros. This is only relevant for receiving any 5/10/20+ years participation prizes that players of each game get. This is bonus is normally included, but if you want to receive those prizes not only for your primary game, but for both, you will need to pay the extra fee. Only years in which you paid this extra fee will be accredited. (This is completely optional, and you can participate in all of Lure of Middle-earth without this.)
Early Arrival (starting Thursday)
If you want to arrive a day early at the castle and stay an additional night, the cost is:
1 bed room (private bathroom): 57 Euro
2 bed room (private bathroom): 49 Euro per person
2 bed room (communal bathroom): 44 Euro per person
3 – 10 bed rooms (private bathroom): 36 Euro per person
3 – 10 bed rooms (communal bathroom): 31 Euro per person
(When booking "early arrival" some rooms are not available on Thursday. Therefor, it might be required to move to a different room on Friday.)
Also, it might be possible to stay for another night upon request.
Registration
Go here for pre-registration.
You will be contacted via mail afterwards with a selection of the rooms that are still available and instructions how to pay. You are expected to send the payment within two weeks after your pre-registration. Only after full payment your registration and your room are confirmed.
Available payment methods:
– Transfer to Austrian bank account
– Paypal (with an additional fee of 5 Euro)
Late fee: If you do register (including payment) only two weeks before the first day of the event, there is a late fee of 5 Euro.
No accommodation in the castle
It is also possible to stay at one of the many hotels in Bacharach when coming to the Lure of Middle-earth. Even if you are not staying overnight at the castle you still have to register for a "no accommodation" ticket. The same applies, if you live nearby and don't need a place to stay overnight.
There are two ticket variants if you do not sleep at the castle (both of them include free coffee, tee, WiFi and all tournament fees):
– With food (including dinner on Friday, lunch and dinner on Saturday and lunch on Sunday): 53 Euro.
– Without food: 15 Euro.
There are no day passes available, only tickets for the whole weekend.
If you book without food, you will not get a wristband. Only participants with a wristband will get food in the cafeteria. Additional individual meals can be purchased directly via the youth hostle at the castle for full price (ask at the counter for details).
Separat Dormitory for Women
Most of the rooms at Lure of Middle-earth are shared bed rooms. One of these rooms (a 4 bed room with private bathroom) will be reserved for Women only. So if you want to stay in this room with fellow female players, please mention this in your registration in the additional comments box.
Kids & Family
It is encouraged to bring your kids to the Lure of Middle-earth. They normally can find fellow kids of all ages by other participants to play or hang out with. Kids won't be seen as a nuisance and are welcome! The same is true for your partner or friends – even if they do not play Middle-earth CCG or Lord of the Rings LCG. They can either enjoy the nature around the castle or just relax. And there is always the possibility to play other boardgames.
There are also reduced prices for children. Please see the Rooms & Prices section for details.
Social Media
The official hashtag for the Lure of Middle-earth is: #LureOfMiddleEarth. Use it to tag pictures on Facebook, Twitter and Instagram to share your adventure with the global community!
Food and Drinks Policy
It is not allowed to bring your own drinks into the gaming rooms (including the Great Hall/Rittersaal) at the Lure of Middle-earth (except for water). Tee and Coffee will be available free of charge. Additional drinks – including alcoholic beverages – can be purchased in the cafeteria.
Special Dietary Requirements
Vegetarian food options are served for every meal at the castle (without additional charge). To ensure that enough vegetarian meals are prepared, you need to select "vegetarian" from the "food preferences" drop-down menu when pre-registering.
If you have any further dietary requirements (like vegan, gluten free, fructose/lactose intolerance or else), please let us know by mentioning this in the comments box during pre-registration. We cannot guarantee that those can be fullfilled, but we will help you navigate the situation to the best of our ability.
Accessability Notice
Castle Stahleck is a historic building and therefore sadly not accessible for people in wheelchairs. There are no elevators and all rooms can only be accessed via winding stairways.
Cash & Payment Notice
Please note that Germany is still mainly a cash country and paying with credit cards or digital payment methods will be limited. This is especially true in rural areas like Bacharach. While you can pay via debit card at the Castle, please be prepared to pay cash in the city of Bacharach.
You will also have to pay your tournament admission fees for sealed events in cash.
Code of Conduct
All participants of the Lure of Middle-earth have to follow the event's code of conduct. You can find it here. With your registration for the event you accept the Code of Conduct. Please inform other people you are registering for about it.
Cancellation Policy
After your registration is confirmed, you can cancel your registration via mail to Wolfgang Penetsdorfer (thorondor@gmx.at). There is a cancellation fee of 20% of your total accomodation fee, as long as you cancel latest on January 13th 2023 (Austrian time). After this day the cancelation period ends and there will be no reimbursement.
Questions?
Any questions left? Feel free to ask them via mail to the main Lure Coordinator Wolfgang Penetsdorfer (thorondor@gmx.at) especially if this regards the Middle-earth CCG portion of the event. If you have any questions about the website or the Lord of the Rings LCG portion of the event feel free to contact Dominik Schönleben (dominik@nerdmeetsyou.de). Also don't forget to subscribe to our Newsletter to get all last minute updates about the event and and a notice when registration is open.