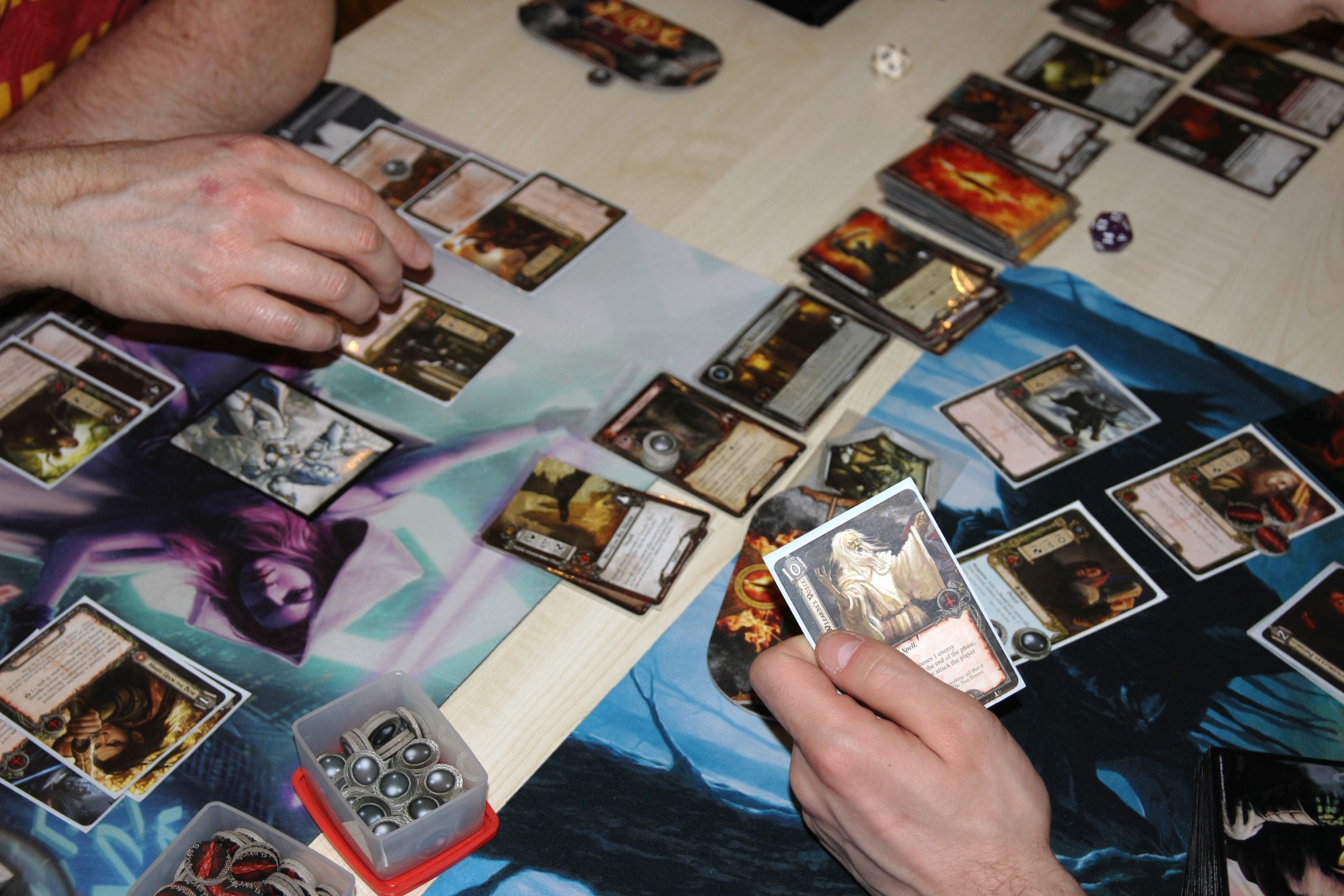 It will be the 24st time that players will meet at a castle of Bacharach in the middle of Germany to follow to their greatest passion. Each year over 170 fans will come together for this special event, where they play their favorite Lord of the Rings themed card and board games or just share a drink together.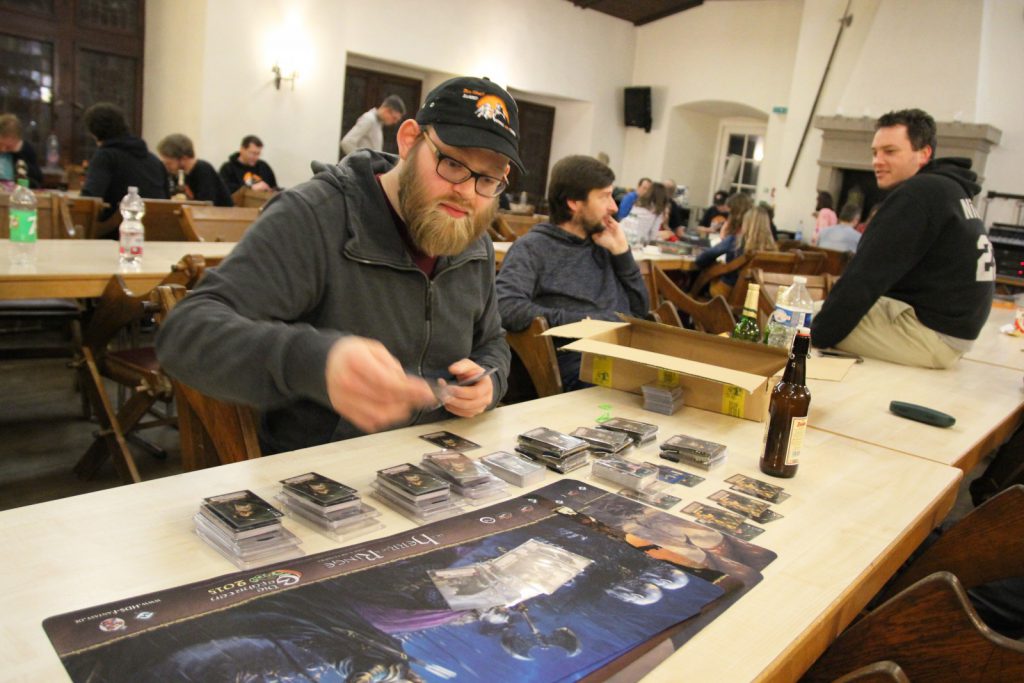 Our History: How the ball began to roll
The idea of Lure of MECCG was born in 1999 during a Lord of the Rings Convention at castle Hohensolms in Germany, where a handful of dedicated Middle-earth CCG players met and pitied themselves, that there are so few chances to play the game. So they together planned their own METW convention a year later at the same castle – inviting all their friends.
That was in 2000, and from then on the Lure of Middle-earth became not only an annual event in March/April, but also the largest Lord of the Rings card game convention worldwide located at an atmospheric castle in the heart of Europe.
Recently many Middle-earth fans have started to also enjoy the new cooperative Lord of the Rings Living Card Game by Fantasy Flight games. Therefore this game has joined the convention since 2015 as the second game that is supported with special events an tournaments (including each years official Fellowship Event) throughout the weekend. This lead also to a big influx of new players who are coming to the event only to play Lord of the Rings LCG.


Our Philosophy: What is it all about
From the beginning the idea behind the Lure of Middle-earth was to just have fun with our beloved cards. It is known that there is no better company than among gaming friends. So we wanted to create a place, where old and new friends can meet to share a good time. No serious tournaments or championships are staged at the Lure of Middle-earth. Instead we want to offer new or innovative ways to play the games we love.
This includes player created scenario tournaments or special challenges that you can take part during the weekend. For Middle-earth CCG there will be a weekend long Arda Challenge, the Drinking Game and Dream Card events, in which you can play as fan created Elven or Dwarf lords as your avatar. Or you can join the Free-Races of Middle-earth event for Lord of the Rings LCG and other special challenges that lead you to created thematic or creative decks.
Of cause we also offer some traditional competition. This includes General Opponent or Sealed Deck competitions for Middle-earth CCG or the Nightmare Survival Mode which is played by the Race Against the Shadow tournament rules for Lord of the Rings LCG.
It does not matter if you are a veteran or a beginner! You will be welcome and find the right kind of event to play in at Lure of Middle-earth. And there will even be some chances to get a tutorial or deck building help for both games especially on Friday afternoon.
You can also play boardgames at the Lure of Middle-earth. Not only Lord of the Rings themed ones. Bring your favorites – and you can be sure, that there always will be someone to join you!


Join us this year!
This event is not only for German speakers, it is for gamers from all around the world. We have regulars from especially Spain, France, the Netherlands, but also some international guests from Japan or the USA.
One who has been at Lure of Middle-earth once, is bound to come again! So join our fellowship at this years convention to celebrate the games we love!


Middle-earth CCG
There will be many different Tournament during the weeking. Including favorites like General Opponent and Hero One Deck, lots of Sealed Tourneys, but also the widely acclaimed Cool Play, the (in)famous Crap Tourney and the possibility to play with the Dream Card expansions. You will also always find someone who wants to play ARDA. (Have a look at the full program here.)



Lord of the Rings LCG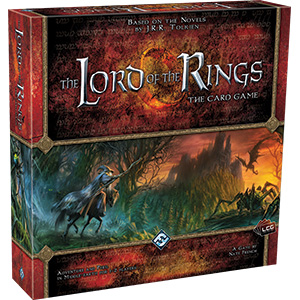 2015 was the first time the Lord of the Rings LCG (by Fantasy Flight Games) was played during the weekend. And the participants who play the game are growing since then. The biggest event each year is the Fellowship Event, but also many variants like Race Against the Shadow or Keeping Count will be played. (Have a look a the full program here.)