Schedule for Special Events & Tournaments
Special Guest:
Caleb Grace, Lead Designer
Caleb Grace is the Lead Designer for Lord of the Rings LCG. He was already a guest of honor in 2019 and will join us again this year. Considering last year he probably will join some of the special events and is always happy to talk about the game he creates – but don't expect any big news. Read more about his appearence at this year's event here.
Activities through the weekend:
Lord of the Rings LCG
Marathon Challenge
– for beginners and experts –
There are 100 special challenges. Can you beat them all? All players have to collectively try to finish as many challenges as possible during the weekend together. If the players together finish enough quests they unlock special promos for everyone who finished at least one quest. The more quests get completed the better. This is a team efort! And this event runs all weekend. Prices are awarded on Sunday.
Event Coordinator: Simon
Middle-earth CCG
Arda Competition
– for beginners and experts –
There will be seven variants of Arda available: Hero, Minion, DC, German, Drinking, Mission. Those players who played (and won) the most Arda matches will get special prizes at the end of the weekend.
Event Coordinator: TBD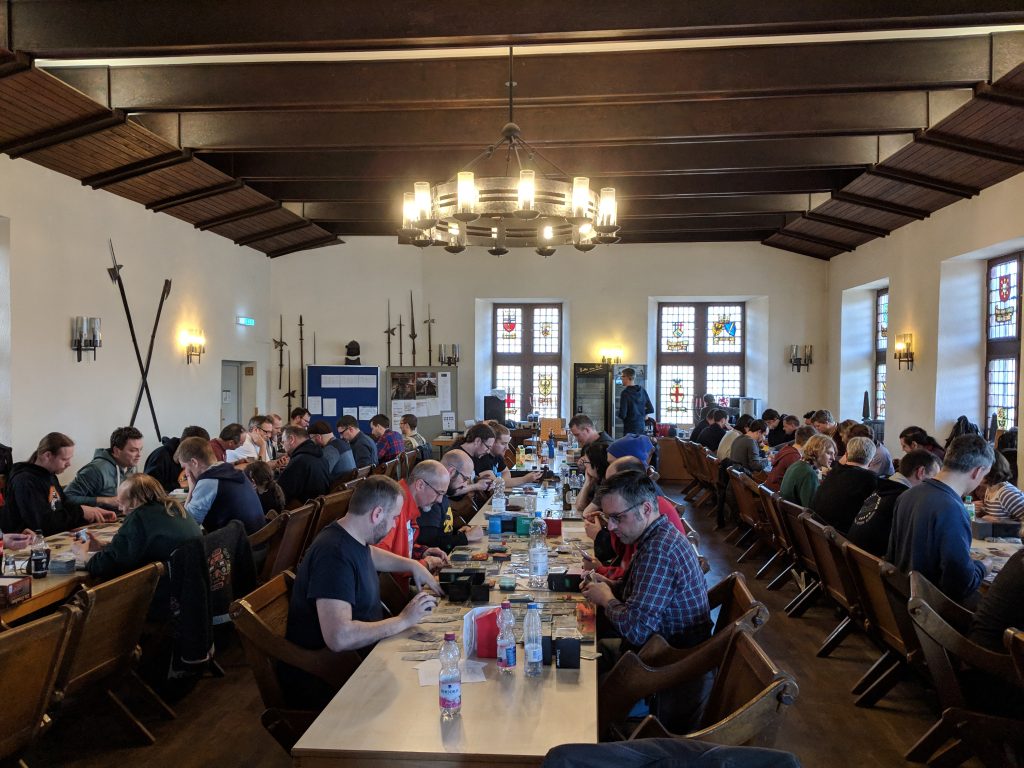 Special Tournaments and Events:
Some special events or tournaments have a maximum number of participants. There are two different approaches to pre-register for a certain event (after you have booked your stay at the castle only) depending on the type of game.
Middle-earth CCG:
Please put your name on the the registration list after you arrive at the castle. You can find this list in the main hall
Lord of the Rings LCG:
Most events have a maximum number of participants. To pre-register for an event use this Google Form. We will try to provide additional slots if an event is booked out. But this is only possible if we know about this early. Seats are alocated on a first-come-first-served basis.
Participation in special events is optional. You can also just play games with old and new friends at the castle.
–
Friday
Lord of the Rings LCG
Lord of the Rings LCG
Middle-earth CCG
Middle-earth CCG
Middle-earth CCG

Room

Great Hall / Rittersaal
(left row)
Tower Room
Great Hall / Rittersaal
(right row)
Ground Floor
Basement
14:30 - 14:45
Saying Hello / Announcements
Saying Hello / Announcements
15:00 - 18:00

Demo Games and Deckbuilding Tipps

– for beginners –
Demo decks will be provided.
Get a more indepth explanation of the rules. Or learn how to built decks. If you are new with the game or it is your first time at the Lure of Middle-earth, we will help you to find a team or get started.
Event Coordinator: Dominik

Rouxxor's Draft

– for experts –
Player cards and quests will be provided.
(16 players maximum)
Come without a deck. Pick a table (cards in french or english) You will select your heroes and players card during a draft session. Play a short scenario to get used to the deck. This event continues after dinner.
Event Coordinator: Camille
Full event rules and information here.

Hero Only 1-Deck Constructed Tournament

3 Rounds
Event Coordinator: Heiner

Dream Cards General Opponent: First Folk

Round 1 starting at 16:00. (This event continues after Dinner.)
Event Coordinator: Eric & Nico

Mixed Hero Sealed Deck Tournament

3 Rounds
Each player gets 1 METW Starter, 2 METW Boosters, 3 METD Boosters
Price: 15 Euro
(Up to 12 players)
Event Coordinator: TBD
18:00 - 19:30
Dinner
Dinner
Dinner
Dinner
Dinner
19:30 - 19:45
Announcements
Announcements
20:00 - open end

LotR LCG Drinking Game

– for beginners and experts –
Quest: Choose your own quests and bring them with you
Only for participants 16 and older.
One Drink to Rule Them All: Play a special variant of the game, where you can help your fellow players in their fight against Sauron by drinking alcoholic beverages. Pick up custom drinking game only cards for participating. Full rules in English (LINK) and German (LINK).
Event Coordinator: Uli

Rouxor's Draft

– for experts –
This event starts before dinners. See above for more information.
After Dinner you play an Epic Multiplayer scenario with all your draft partners (Mount Doom/Black Gate opens in easy mode for french table, Siege of Annuminas for english table). This event starts before dinner. See more information above.
Event Coordinator: Camille
Full event rules and information here.

MECCG Drinking Game

3 Rounds
Only for participants 16 and older.
Each player gets 1 METW Unlimited Starter + 2 METW Unlimited Boosters + 3 METD Boosters
Price: 13 Euro
(Up to 12 players)
Event Coordinator: Alex

Dream Cards General Opponent: First Folk

(Continuing with rounds 2 - 4.)
See more information above. Players may still join the running tournament in the second round with a first round bye worth 0 Points.
Event Coordinator: Eric & Nico

Crap Sealed Tournament

3 Rounds
Each player gets 1 METW Unlimited Starter + 4 METW Unlimited Booster + 3 METD Booster
Price: 17 Euro
(Up to 12 players)
Event Coordinator: Hartmut
–
Saturday
Lord of the Rings LCG
Lord of the Rings LCG
Middle-earth CCG
Middle-earth CCG
Middle-earth CCG

Room

Great Hall / Rittersaal
(left row)
Tower Room
Great Hall / Rittersaal
(right row)
Ground Floor
Basement
Until 9:30
Breakfast
Breakfast
Breakfast
Breakfast
Breakfast
9.30 - 9:45
Announcements
Announcements
10:00 - 12:30

Nightmare Survival Mode

– for experts –
Quest: Deadmen's Dike Nightmare (please bring your own copy)
All players fight in teams of two against Deadmen's Dike in Nightmare Mode – and will probably loose. You have two try to defeat one of the most difficult scenario of the game, while avoiding to discard your whole deck (be aware that nightmare version forbid decks with more than 50 cards!). Find a partner, bring your best strategies and challenge yourself.
Event Coordinator: Camille
Full event rules and information here.

General Opponent 2-Deck Tournament

5 Rounds
This event continues after lunch.

Hamburger Scenario Tourney

4 Rounds. This event continues after lunch.

Minion Draft Tournament

This event starts at 10:30 and continues after lunch.
4 Rounds
Each player gets 3 German Liddles Eye Starters
Price: 18 Euro
(Up to 8 players)
12:30 - 14:00
Lunch
Lunch
Lunch
Lunch
Lunch
14:00 - 14:15
Announcements
Announcements
14:30 - 18:00

Massive Multiplayer Mode

Quest: Fanmade Quest (will be provided)
– for beginners and experts –
As there is no official Fellowship Event for 2019 we have planned something special!
Take part in a Massive Multiplay game with 30 or more participants playing simultaniously. (Be prepared for some fun and weirdness!)
Get special promos and treasures!
Event Coordinator: Dominik

General Opponent 2-Deck Tournament

This event starts before lunch. See more information above.

Hamburger Scenario Tourney

This event starts before lunch. See more information above.

Minion Draft Tournament

This event starts before lunch. See more information above.
18:00 - 19:30
Dinner
Dinner
Dinner
Dinner
Dinner
19:30 - 19:45
Announcements
Announcements
20:00 - open end

Dark Lord Tournament

Quest: The Wizard's Quest/The Woodland Realm/The Long Dark (will be provided)
– for experts–
The fellowship quests from 2018 and 2019 together form a new style of tournament play: Players will as a team of 2 be able to craft their own encounter deck. Then face off against another team in a swiss tournament following the style of the official Against the Shadow tournament mode.
Event Coordinator: Dominik

Epic Multiplayer

Quest: The Black Gate Opens AND Mount Doom (will be provided)
– for beginners and experts –
Play the great finally of the Saga Expansions in an Epic Multiplayer with 4 players holding Saurons forces at bay at the Black Gate, while 4 players try to sneak The One Ring to Mount Doom. Because of the very hard difficultiy of this endevour the scenarios are played on Easy Mode.
Event Coordinator: TBD

Cool Play Hero Contructed + Challenge Deck Tourney

3 Rounds

Minion Sealed Deck Tournament

3 Rounds
Each player gets 2 Liddles Eye Starters, 2 Lidless Eye Boosters
Price: 20 Euro
(Up to 12 players.)

Challenge Deck Tournament

3 Rounds
(Up to 14 players.)
–
Sunday
Time
Lord of the Rings LCG
Lord of the Rings LCG
Middle-earth CCG
Middle-earth CCG
Middle-earth CCG

Room

Great Hall / Rittersaal
(left row)
Tower Room
Great Hall / Rittersaal
(right row)
Ground Floor
Basement
Until 9:30
Breakfast
Breakfast
Breakfast
Breakfast
Breakfast
Until 9:30
Clearing the room
Clearing the room
Clearing the room
Clearing the room
Clearing the room
9:30 - 9:45
Announcements
Announcements
10:00 - 12:30

The Free Races of Middle-earth

Quest: TBD (please bring your own copy)
– for beginners and experts –
All the heroes and allies in a player's deck must have one trait. Get special promos and prices for representing your race or people of Middle-earth. Additional special rules apply, see all of the details here.
Event Coordinator: Moritz

Hero Pool Sealed Tournament

3 Rounds
Up to 16 players.
This event runs till 14.30 with a short lunch break.

Dream Card Challenge Deck Tournament

3 Rounds
Up to 20 players. This event runs till 14.30 with a short lunch break.

The Ringwraiths

A multiplayer variant, in which all nine Ringwraiths compete in the same game (decks will be provided)
Up to 9 players.
See full rules here.
12:30 - 14:00
Lunch
Lunch
Lunch
Lunch
Lunch
14:30 - 15:00
Prize Ceremony & Farewell

Prize Ceremony & Farewell

Prize Ceremony & Farewell

Prize Ceremony & Farewell

Prize Ceremony & Farewell